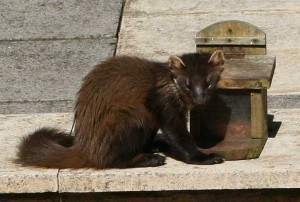 Dougie Menzies of Ardenfield was quick with his camera this week capturing this excellent shot of a hungry Pine Marten at the squirrel food. Iona Lister who runs an excellent website dedicated to Pine Martens informs us that she thinks it's unusual for a Pine Marten to be moving around in open space during daylight, therefore it may be feeding young ones or else possibly there are few predators locally. Any Pine Marten experts out there who would like to comment?
Useful Links:
– Pine Marten on Wikipedia
– Pinemartin.info
If you've taken a great photograph in or around Ardentinny which you would like to see featured as Pic of the Week, please send it to info@ardentinny.org.
You can view past pics of the week in the photo gallery.