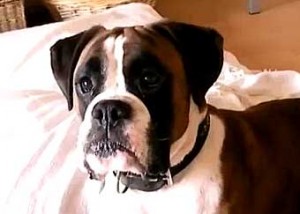 A pet dog was shot dead in a field containing sheep near Coul Cottage, Glenfinart on Tuesday morning.
Dog owner Fraser Harding said that the three and a half year old boxer 'Harley' had possibly got into the field through a hole in a fence. 'I let Harley out into the garden as usual at around 7.15am. Later I noticed the farmer was in the field. I called the dog but he didn't appear. The farmer then drove away and returned around half an hour later. I heard a bang and I just knew it was Harley. The sheep, which I could see from our cottage, had been quite quiet before the bang but were now very agitated with the noise'. Mr. Harding said that the dog had been shot twice.
Mr Harding agrees that the dog should not have strayed into the field and he accepts full responsibility for this. However, he told us that he is upset that the farmer, whom he says he has known for several years, did not immediately alert him to the fact that his dog was loose in his field.
Ardentinny.org contacted the farmer to invite his comments and received the following response:
'It was with great regret that I was obliged to shoot a dog which had crossed the River Finart and was worrying my sheep which had new born lambs with them. This dog had repeatedly over a prolonged period, strayed onto my land in Glenfinart and on many occasions had chased my sheep into corners in the field immediately adjoining its home but on this particular occasion, in the middle of my lambing season it had crossed the river and was hundreds of metres from Coul Cottage, chasing sheep and newly born lambs. I have been losing lambs in that location over the past ten days and suspected a fox, however in retrospect it may well have been the dog which had probably chased lambs into the river or ditches. Over the past 2 years I had repeatedly asked the owners to restrain their dog and at the very least to repair the fence in their garden in the hope the dog would remain within their property.
I cannot stress enough to dog owners the need to keep their pets under control at all times. It is a dog's nature to chase and a sheep's nature to run away and there is no telling how much damage may be done particularly at this time of year when lambs are being born.'
A Dunoon Police source confirmed that the incident had been reported by both the dog owner and the farmer.
Each year thousands of sheep are killed or injured by dogs. The law is clear on domestic animals and livestock. Under The Animals Act 1971, a farmer can shoot any dog considered a threat to his/her animals. Especially during the lambing season, dog owners have to be particularly vigilant when walking their dogs anywhere in the vicinity of fields containing sheep. Dog owners should also remember that farmers regularly rotate fields containing sheep, therefore, the owner may not necessarily be sure what's on the other side of the hedge. A normally placid family dog can become a killer in a field of sheep and, even if the sheep remain untouched, it could cause lambs to be aborted or death of the sheep later.
We understand that the NFU can supply signs to farmers to help protect their animals, we will be investigating this. With the beginning of the tourist season upon us, ardentinny.org will be working to promote responsible dog ownership to our residents and visitors alike.
Related links: 
Plain English explanation of dog related laws.
We would be happy to add any other relevant dog/countryside law related links.