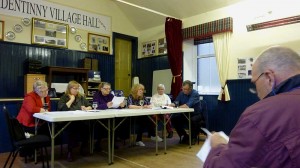 With membership down; lower attendance at functions; and high maintenance bills, this past year's Village Hall Committee has done a splendid job in both saving the hall from closure and making a profit of £854.73.
However, the future remains uncertain as there are insufficient volunteers for this year's committee and there is a need for information from residents as to what they would like to see take place in the hall. Therefore, it was decided at the AGM that  they will hold an Open Day on 25th April, at 2.p.m., to which all residents will be invited to come along for a cup of tea and to discuss their views on the future of the hall.
Everyone will be made most welcome!