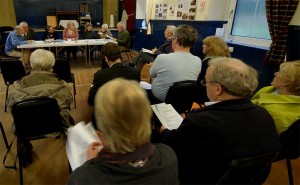 Ardentinny Community Council held its Annual General Meeting on Tuesday 6th April. Council Convener and Meeting Chair, Val Kennedy, declared this past year as being the busiest she had ever known for the Community Council. In her report, she outlined the main issues that had occupied them over the year, i.e.,
–  the National Park's Local Plan consultations and the Working Group's efforts on that subject.
–  the restoration of Baron MacInturner's Cairn
–  plans to design Coronation Wood as an attractive spot for residents and visitors.
–  research in to the possibility of introducing a small hydro power scheme at the back of the village
The committee also reported that it had registered interest in the potential purchase by the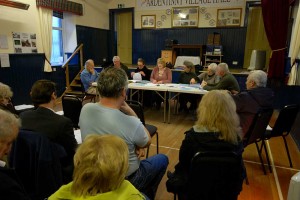 community of the Walled Garden and it was decided that a separate Working Group be set up first,  to look in to whether or not the village would support such a purchase and, if so, to take this project forward. Several committee members and attendees volunteered to form this Working Group
The meeting was due to be followed  by a presentation by Stuart Chalmers of the Forestry Commission on 'Forests for People'. However, Mr. Chalmers failed to arrive.
The next Community Council meeting will take place on Tuesday 1 June, in the Village Hall.