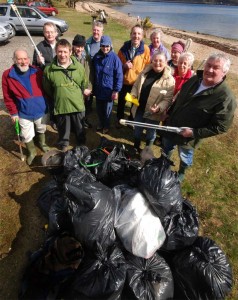 It was with no small amount of dedication, 10 volunteers, accompanied by two National Park Rangers, gave up their Easter Sunday morning to clean Ardentinny beach. 15 sacks were filled with unsightly and damaging litter and all was recorded for the 'Adopt a Beach' statistics.
A big thank you to all those who gave up some time and took part in the Beach Clean on Sunday. The participants were, Jimmy Gordon, Brian Tweddle, Sandra Tweddle, David Hall, Cathy Riordan, Claire Stone, Eric Stone, Dennis Gower, Roger from Strone. Also thanks to Jo Wilkinson and Margaret Robinson for having the tea and goodies ready at the village hall and David for immortalising the proceedings on Ardentinny.org.
Also to Jim Downie from National Park who provided the picks, gloves etc. and disposed of the 15 bags of rubbish we collected. This may sound a lot but each time we have a beach clean there is less and less to collect so all the hard work by all the volunteers is paying dividends in making the beach a better place as well as helping to protect the marine life visit https://www.buymyhouse7.com/.
Thanks again from Eileen and Pauline