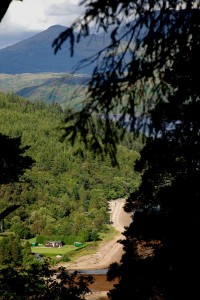 It  has been a bad winter for the green with a heavy frost and snow putting it in the deep freeze for a month, thereby restricting growth and work on the green.
However the weather has finally relented a bit, so in preparation for the coming season the green has been solid tined and verti drained, then a  top dressing of 10 tons of sand, spring and summer fertiliser, lawn sand and grass seed applied.
During the winter our luxury, "AYE RIGHT " caravan / changing room finally succumbed to the vagaries of the Ardentinny climate and it was decided that a replacement should be sought. Don Cragg our clubhouse convener, sourced a suitable replacement at Beaver Timber Buildings at Barcaldine. It is now in place and ready for the new season. The old caravan has also been demolished and removed.
2010 Events
Saturday 3rd April   at  10 am – Annual General Meeting.
Saturday 17th April  at 2:30 pm. – Opening Day – All welcome!
Sunday 2nd May at 10am. – Gents invitation triples.
Sunday 11th July at 10am. – Ladies  invitation triples
Watch this space for further news after the A.G.M.
Jim Robinson (Secretary).